HUNT OF A LIFETIME


Our goal at Blue River Whitetails is to give you an opportunity to take home a Kansas trophy whitetail or turkey at a fair price. We have Kansas hunting at it's best.
KANSAS WHITETAIL HUNTS
We are booking our Kansas whitetail deer hunts for 2017. Take home a fine Kansas trophy buck.
KANSAS TURKEY HUNTS
We are booking our Kansas Spring turkey hunts for 2017. Hurry before all our dates are full.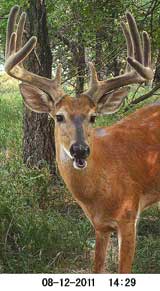 Kansas Deer Hunting and Kansas Turkey Hunting with
Blue River Whitetails

Your Kansas hunting experience will take place in Washington County in North Central Kansas. We offer Kansas trophy whitetail deer and Kansas spring turkey hunts.
We have leased thousands of privately owned acres of prime deer and turkey habitat for Kansas hunting. Our Kansas land consists of creek and river bottoms, rolling hills, CRP fields, hardwoods and cedar draws. Cropfields consist of milo, corn, soybean, wheat and alfalfa. The soil in North Central Kansas is some of the richest in the state. The Blue River Whitetails hunting area also has mast crops such as acorns that deer love, thus providing all the nutrients for growing Kansas trophy whitetails.

David Schotte is the owner and licensed guide of Blue River Whitetails. Living in the Hanover, Kansas area all of his life has given him an intimate knowledge of the land. Over his 34 years of Kansas deer hunting, David has had the opportunity to take several trophy deer and has helped friends do the same. His experience in archery and rifle hunting could possibly put you on the trail of the trophy whitetail of your dreams.

Testimonials
Dave, Lisa & Preston, Once again I am totally overwhelmed by my great success in Kansas at Blue River Whitetails. For the last decade, I've been pursuing big mature whitetails in western midwestern USA & Canada. Never had I more success than with you folks. I'm taken back, 3 years, 3 bucks, 510" of horn. Where could a person go and have more success than that.

Kansas 2016 Turkey Season
at Blue River Whitetails was a huge success. Check out the great Rio's and Easterns that were taken this season in our photo album.

We would love to have you come out and join us for a Kansas turkey hunt you won't forget in 2017.

Kansas 2016 Deer Season
at Blue River Whitetails had its challenging moments but the season ended in success with trophy whitetails being harvested and lifelong memories being made!

Spots are filling fast for 2017, so book your Kansas hunt of a lifetime today!


Field & Stream Feature by Steven Hill
On the Cusp of the Late Rut - In northcentral Kansas, David Schotte at Blue River Whitetails has a full slate of hunters booked for the gun season that runs December 3 to 14, and he's seeing a bit more midday movement that he attributes to the current bright moon. He notes that the secondary rut, while never as strong as the primary rut, usually coincides with the second week of the Kansas gun season. Read more...

Hardcore Hunting T.V. Hunts Kansas
See Pro Staffer Jason Irish take a great buck on camera for "Hardcore Hunting T.V." Jason also films Preston Schotte taking a 150's buck during Kansas Rifle season.


See us on Bass Pro Shops Next Generation
Blue River Whitetails had the pleasure of hunting and filming with Brandon Wikman, Bass Pro Shops Next Generation. Check out Brandon's Journal posts Hunting with Blue River Whitetails or The Best of Kansas.

Hunting Publication Features
(2011, October). Whitetail Handbook. Field & Stream
(2009, August). Opening Day. Field & Stream
(2008, October). Whitetail Handbook. Field & Stream
(2008, February). Trophy Whitetails Forever, Part 2. North American Whitetail
(2007-08, December-January). Whitetail, Seek and Sneak. Field & Stream
BRW Hunting Action on Drury Outdoors Videos
Blue River Whitetails can been seen on Drury Outdoors videos such as "The Plot Thickens". Jason Irish makes a 140-yard muzzlelaoder shot with open sights, on a 135" 9-point buck. If you like turkey hunting, you must watch Drury Outdoors video "Longbeard Madness 7 & 8", "Longbeard Madness 9 & 10" , "Longbeard Madness 11". To catch a little predator hunting watch" Predator Madness".