HUNT OF A LIFETIME


Our goal at Blue River Whitetails is to give you an opportunity to take home a Kansas trophy whitetail or turkey at a fair price. We have Kansas hunting at it's best.
KANSAS WHITETAIL HUNTS
We are booking our Kansas whitetail deer hunts for 2017. Take home a fine Kansas trophy buck.
KANSAS TURKEY HUNTS
We are booking our Kansas Spring turkey hunts for 2017. Hurry before all our dates are full.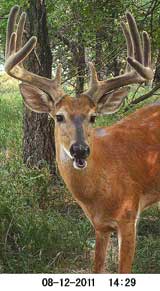 2015 Kansas Turkey Season
Archery Only Season: April 6 - April 14, 2015
Regular Season (firearm/archery): April 15 - May 31, 2015
Youth/Disabled Season (16 & younger, no minimum age): April 1 - 14, 2015
Shooting Hours: One-half hour before sunrise to sunset.
Legal Equipment: Long, recurve or compound bows and shotguns and muzzleloading shotguns 20 gauge or larger using shot sizes 2 through 9.
Limit: Any individual who has purchased a spring turkey permit is eligible for one second turkey game tag. Spring game tags are valid for Units 1, 2, 3, 5 and 6.
2015 Kansas Deer Season
Early Muzzleloader: Sept.14 thru Sept. 27, 2015
Archery: Sept. 14 thru Dec. 31, 2015
Regular Firearms: Dec. 2 thru Dec. 13, 2015
Nonresident Deer applicants must apply online from April 1 thru April 23, 2015 or apply by phone 620-672-0728.


Nonresident Youth White-tailed Deer Permit Fee: $116.34 (youth 15 and younger)


Nonresident White-tailed Deer Permit Fee : $346.96 (16 and older)
Bag Limit: (1) white-tailed deer - buck, doe or fawn AND (1) white-tailed antlerless deer


A Kansas hunting license is $72.50 and can be purchased via the KDWP website.


Nonresident Deer Permit Draw: after April 24, 2015
The unit map is the same for rifle, muzzleloader and archery hunts. Blue River Whitetails is located in Unit 8. When filling out your application, under primary unit choose Unit #8 and the adjacent unit as #9. For your second choice mark Unit #9 for your primary, and Unit #8 for the adjacent unit. This will increase your odds of drawing. Make sure you mark the hunt type you will be hunting (ex. firearms, muzzleloader or archery.)
If unsuccessful in the draw, hunter receives a $316 refund and a preference point for next year's draw.